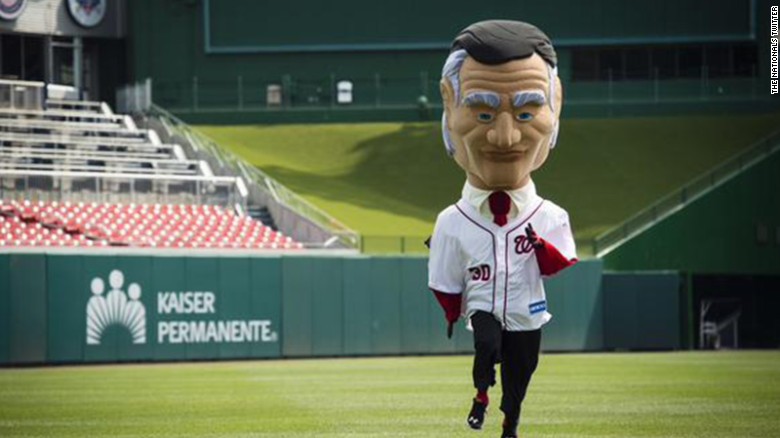 Run, Cal, run — which #30 will indeed do, Friday night at Nationals Park . . .
Quietly (which seems appropriate), it's been a good year for Calvin Coolidge.
America's 30th President is this year's choice as the White House Historical Association's annual Christmas ornament.
And on Friday night, he gets to take what may or may not be a victory lap when an oversized Coolidge mascot competes at the Washington Nationals' "running of the presidents" — a fourth-inning dash around the ballpark also featuring the likenesses of George Washington, Thomas Jefferson, Abraham Lincoln, Theodore Roosevelt and William Howard Taft (if the mascots are done to scale, getting stuck behind Taft would seem like a ticket to defeat).
About Coolidge: he's also the only American born on America's birthday (in 1872, in Vermont's Plymouth Notch).
Which prompted me to write this column for Forbes.com about four aspects of the 4th of July that pertain to Republican presidential hopefuls and and the coming election:
1) Coolidge. In this remarkably bunched-together field of Republicans, which candidate(s) comes closest to "Silent Cal" as an espouser of tax cuts snd de-regulation and limited government? Remember , it's not just Reagan Reagan who championed conservative beliefs in a 20th Century White House. Here's a Coolidge address to Congress, from December 1923 (his first year in office), to get you thinking . . .
2) Adams & Jefferson. They're the two presidents who passed away on the 4th — coincidentally, on the 50th anniversary of the republic's founding. They started their political careers as rivals and ended their lives as mutually-admiring correspondents. Which begs the question: which of the GOP candidates would you like to pair-off as pen pals? My choices: two former governors (Bush and Perry) and two current governors (Walker and Kasich) going at it on the GOP struggles with ideology and brand. Though a dialogue between Lindsey Graham and Mike Huckabee might have a southern-friend tastiness to it.
3) The Iron Horse. The 4th of July also belongs to Lou Gehrig, who gave his "farewell address" at Yankee Stadium on that day in 1939 (Jonathan Eig's book on the man's life and times is one of my favorite all-time reads). We remember the speech for its poignancy ("luckiest man on the face of the earth"). What we forget is that it was also abbreviated, as Gehrig was a reluctant participant in the ceremony — his remarks lasting for all of 278 words, which is just six more than Lincoln's Gettysburg Address. Can the GOP field produce a candidate with Gehrig's humility, to say nothing of his stamina (I won't bother wishing for a president who'd limit his speeches to three minutes or less)?
4) Freedom To Choose. There's no set routine as to how American presidents celebrate the 4th. During their respective first years on the job: Barack Obama hosted a White House picnic; George W. Bush attended a block party in Philadelphia; Bill Clinton was also in Philly, at the Liberty Bell; George H.W. Bush kicked back in Kennebunkport; Ronald Reagan was recovering from his gunshot wounds. Some presidents worked over the holiday (in 1933, FDR was dealing with the global economic conference in London); others played (Harding and Eisenhower took to the links). For the good of the nation, the hope would be the GOP field producing a candidate so certain of himself or herself that there's no need for polling and focus-grouping their holiday plans.
Here's wishing America a joyous 239th birthday.
And for old "Silent Cal", who turns a spritely 143 the same day: good luck in the big race!
To receive emailed updates from "A Day at the Races", go to the "Sign Up" space on the upper right-hand side of this page. You can also follow me on Twitter: @hooverwhalen.