Former Florida Gov. and expected presidential candidate Jeb Bush is scheduled to make an appearance tomorrow at the Conservative Political Action Conference (CPAC).
Bush won't give a speech. Instead, he'll sit down for a 20-minute interview with Sean Hannity (here's Politico's James Hohmann's list of 8 things to watch, including #6 — whether Bush "escapes unscathed or gets bloodied").
Just how cinematic will this be?
For openers, in this gathering that's been described as "American Idol for political nerds", there may be an audience stunt. William Temple, a member of the Golden Isles Tea Party (it's in Georgia), told The Washington Times to expect a symbolic protest: "We are going to get up in mass, and we are going to walk out on him, We are not going to interrupt anyone's speech, but we are all going to exercise our right to the bathroom at the same time."
As for what happens on the stage, here are four possibilities: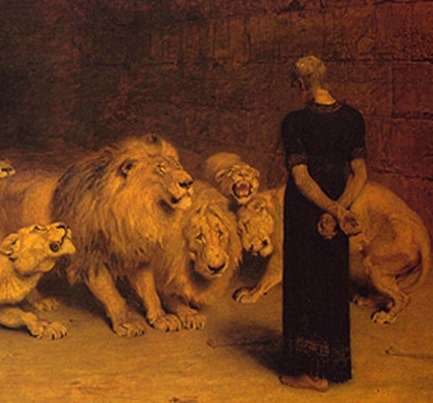 1) Daniel In The Lion's Den. Bush stands his ground when asked about differences with movement conservatives on immigration and education. He deftly navigates questions about surname fatigue, money-over-message and the wisdom of running on a general-election strategy in the primaries. And he takes constant swipes at President Obama over feckless leadership and scorched-earth gridlock. Activists walk away from the session not in love with Bush, but at least giving him some grudging respect. All of which the Bush campaign spins to reporters as a "win".
2) Softball Practice. Hannity hosts an evening show on Fox News; when the sun's up, he does talk radio. But he's not to be confused with, say, the decidedly more bombastic Mark Levin in terms of conservative flame-throwing in Bush's direction. In this scenario, Hannity asks the candidate about the aforementioned obvious differences, but doesn't press him. And he lobs a few softballs with regard to his dad's health, his son's new political career, etc. Why the gentle treatment? Because Hannity's in the campaign for the long haul, and might not want to alienate a candidate he may be cheerleading for 18 months from now — a nominee who, remembering a slight at CPAC, may blow off his show.
3) Da Bomb. The candidate's worst-case scenario: Bush is heckled by activists; his attempts to find common ground — through red-meat rhetoric, comedy, what have you — fall flat. Over the weekend, he's embarrassed by the straw-poll vote (Bush wasn't on last year's ballot; he opted out of the straw poll in 2013). Now, the media have fresh fodder for two of their favorite pastimes: (a) playing armchair quarterback and second-guessing whether Bush should have blown off the conference; (b) changing the narrative —  Bush 2016 as Giuliani 2008 (lots of cash, not lots of love among the activists, a question of when and where to enter the primaries).
4) Shakespearean Non-Tragedy. Call it "much ado about nothing". Bush and Hannity have a civil conversation. There's no flap, no controversy, nothing really new for the media to report. And so we return to business as usual: waiting for the field to gel; anticipating what the candidates have to show when they report their first-quarter finances, not to mention the usual daily nonsense having to do with Republicans' intellect and temperament.
Your guess as to what goes down at CPAC?
To receive emailed updates from "A Day at the Races", go to the "Sign Up" space on the upper right-hand side of this page.